PLAN INDIA IN ACTION ON COVID-19
As an organisation of global and national relevance working for both social development and humanitarian outcomes, Plan India is committed to making its best efforts to promote mass awareness, particularly among girls, young women, children and vulnerable youth, against the spread of the Novel Coronavirus in India.
Plan India's response focuses on communicating public health information, distributing hygiene kits, dry ration kits and personal protective equipment (PPE) while ensuring that the needs and rights of girls and young women are addressed.
Through our outreach, Plan India has reached out to 50,000 families, meeting the urgent needs of 200,000 people on the ground. We are committed to reaching 50,000 more families with dry ration and hygiene kits. Plan India is also supporting the initiative of the national agencies like Niti Aayog, National Disaster Management Authority and Ministry of Home Affairs to name a few. We are also engaging with local government agencies, civil society organisations, donors and healthcare experts to ensure that correct messages and immediate relief measures reach our beneficiaries to keep them healthy and protected during this pandemic.
Plan India on-ground response until July 6

We are at the same time continuously monitoring the impact on our operations, placing utmost importance on the safety and well-being of our staff and communities. We are following public health guidance issued by national governments and the World Health Organization.
Goal: To provide gender-sensitive public health and humanitarian assistance to the most vulnerable families so that the impact of the crisis on children, girls and young women is minimised and mitigated.
Detailed information about Plan India's response to COVID-19
Working in our communities
Reaching the most marginalised in Plan India's sponsorship states
Plan India has initiated COVID-19 response in its 8 sponsorship states – Bihar, Delhi, Jharkhand, Odisha, Rajasthan, Telangana, Uttar Pradesh, and Uttarakhand covering 29 districts. We have reached out 6000+ marginalised families in each of these states with dry ration and hygiene kits. To ensure the safety of the field staff, stakeholders, as well as that of the community, Plan India rolled out the contactless distribution of dry ration and hygiene kits across all its operational states.  Read more about our contactless distribution here.
While the lockdown has made it difficult for the teams to conduct field visits to the sponsored families, Plan India has initiated follow-up through phone calls to stay connected with its community members. The teams are making daily calls to understand the wellbeing, medical condition and other needs of the families. They also counsel them about the safety and preventive measures around COVID–19. The team has reached 45000+ girls and boys over mobile phones. Read more about our outreach over phone here.
Help us deliver Hygiene and Sanitation Kits to vulnerable families. Support Us Now!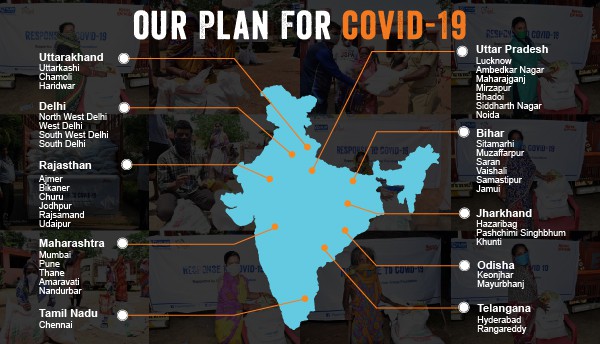 Extending support to around 100,000 people in 7 Aspirational Districts
Continuing our partnership with Niti Aayog, Plan India is working closely in 7 Aspirational Districts where it is supporting District Collectors in their initiatives and efforts to combat COVID-19. The aspirational districts where Plan India is working include Siddharth Nagar (Uttar Pradesh), Haridwar (Uttarakhand), Hazaribagh, West Singhbhum, and Khunti (Jharkhand), Karauli (Rajasthan), and Muzaffarpur (Bihar).
In 
Siddharth Nagar district, 
Plan India has been appointed as the 
Nodal NGO 
for responding to COVID-19. Plan India will lead the planning and monitoring of a coordinated response in the district under the guidance of the District Magistrate and will work in close coordination with the district administration and other local NGOs.
Letter from District Magistrate Siddharth Nagar appointing Plan India as the Nodal NGO
Other major activities which we are undertaking include:
We are actively creating awareness on COVID-19 among girls, young women, children, their families and other stakeholders like frontline workers and doctors through factual information. Following the government directive of social distancing, the content (video tutorials, posters, leaflets) is being disseminated through digital platforms and mobiles. As of now, more than

100,000 people

have been reached.
In consultation with the district administrations, Plan India has till now distributed 8000+ dry ration and hygiene kits to the most marginalised and vulnerable people.
Help reduce the impact of COVID-19 and protect the most vulnerable by Donating to Plan India.
In Photos: Plan India's on-ground response
Partnering with Barclays to support vulnerable communities 
Together with Barclays, Plan India is reaching out to 150,000+ vulnerable people in Maharashtra, Delhi, Uttar Pradesh, Tamil Nadu and Uttarakhand. Through the outreach, we will support migrant workers, families with a girl child and elderly people living in slums and underprivileged communities across Mumbai, Pune, Amravati, Delhi, Noida, Siddhartha Nagar, Lucknow and Chennai with dry ration and hygiene kits.
Help reduce the impact of COVID-19 and protect the most vulnerable by  Donating to Plan India
Collaboration with Sandvik India
Plan India, in partnership with Sandvik, supported vulnerable families with dry ration and hygiene kits in Ajmer and Rajsamand districts of Rajasthan. Under the outreach, 49 villages of 25 panchayats of Railmagra block and two panchayats of Kayad block of Ajmer were covered. Around 1200 families were reached with dry ration kits and 1600 families with hygiene kits.
Reaching out to 3000 families in Pune, Maharashtra and Bhubaneswar, Odisha
Supported by Eicher Motors Limited, in phase 1, we have delivered dry ration and PPE kits to 1,500 vulnerable families whose livelihoods have been severely impacted by the lockdown across Pune and Bhubaneswar.
In phase 2, we are reaching out to 1,500 vulnerable families in Bhubaneswar.
Help us deliver Hygiene and Sanitation Kits to vulnerable families. Support us now!
Supplying protection kits in Nandurbar and Amravati, Maharashtra
Supported by Reckitt Benckiser, Plan India's Nutrition India Programme is supporting the district administration of Nandurbar and Amravati. We have facilitated 500 PPE kits, 500 N95 masks, 10 infra-red thermometers and 1000 alcohol-based hand rubs for the medical and paramedical staff in the district and rural hospitals who are working closely with the COVID-19 patients.
Plan India has also supported the paramedical staff and frontline workers in 61 sub-centres and 417 Anganwadis with 6000 triple layer masks and 50,000 bottles of handwashing liquid. We have distributed 150,000 handwashing liquid among the communities living in the remote villages of Amravati and Nandurbar. Apart from this, 41 Community Nutrition Workers under the programme are raising awareness on COVID-19 while keeping a tab on the undernourished children in the areas.
Help reduce the impact of COVID-19 and protect the most vulnerable by Donating to Plan India.
Reaching out to 1184 vulnerable families in Alwar, Rajasthan
Supported by Metso India, Plan India has facilitated the distribution of dry ration kits and hygiene kits to 1184 vulnerable families. We are also supplying PPE and hygiene kits to 10 partner frontline workers in Alwar who will be assisting in the distribution.
Help Plan India reach more vulnerable families with a Dry Ration Kit. Donate now!
Reaching the most marginalised in Haridwar, Uttarakhand
In partnership with Relaxo Foundation and supporting our work in the Aspirational Districts, Plan India has reached out to the most marginalised families in Haridwar. We have till now distributed 700 dry ration and hygiene kits in the district.
ICU beds for district hospital of Udham Singh Nagar, Uttarakhand
Plan India has facilitated 2 fully motorised beds for Intensive Care Unit of Udham Singh Nagar for treatment of those infected by COVID-19.
Ensuring uninterrupted HIV treatment for pregnant women and mothers
Plan India's flagship project Ahana worked relentlessly to serve as a bridge between pregnant women living with HIV/AIDS and life-saving Antiretroviral (ARV) medicine to ensure that their treatment is not stopped during the lockdown. Emergency Identity Cards were issued to
379
Ahana Field Officers in 357 districts of 14 states to ensure availability of ARV medicines and other necessities associated with the COVID-19 pandemic. These committed frontline workers supported
20,375
 People Living with HIV (PLHIV), and more than
7400
positive pregnant women by delivering life-saving ARV medicine at their doorstep. Ahana also contributed to the fight against COVID-19 by sensitising people on relevant awareness messaging and reached out to
29,953
families. Read more about Ahana's outreach during COVID-19
here
.
Help Plan India reach more health heroes with PPE Kits. Support Us Now
SAFETY OF STAFF
Plan India stands for the safety and well-being of its staff even as we continue to reach out to the most vulnerable population impacted by COVID-19. We have adopted new ways of working to ensure that the employees can deliver from home as well as from the office. We reopened our offices in the first week of June with only 30 per cent of staff and adequate precautions are being followed as per the government guidelines to ensure the safety and well-being of our associates. While working in the office, the employees are required to rigorously follow social distancing norms, wear masks and protective gear and use the Aarogya Setu app.
Before opening the offices, Plan India organised training and capacity building workshops for its employees and filed staff to orient them on the new ways of working in the unlock phase of the COVID-19. Employees and their families have also been provided special medical insurance to cover COVID-19 as a duty of care by the organisation.
Plan India's employees are the backbone of the organisation and we stay committed to ensuring that they are safe and cared for at all the times.
Plan in media on COVID-19
For more media coverage click here