DIGITAL MITRA – EMPOWERING GIRLS WITH DIGITAL STORYTELLING
Plan India believes in the power and voices of young people. Through our work with young people especially girls we know that their stories can create impact and positive change towards forming a gender equal world. In tune with the efforts to address the gap in cyber literacy and enable girls to productively utilise the opportunities afforded by the internet, Plan India piloted Digital Mitra Project from January – March 2021 and trained 15 girl changemakers to create campaigns on common causes that impact their socio-economic well-being like girl education, digital divide, girl safety, child marriage and so on for effective storytelling using new digital tools, mobile journalism and smartphones.
Key Programme Objectives
Build capacity of girls on use of mobile phones for storytelling on the issues focusing mainly on gender equality
Build capacity and train them on the safe use of social media
Provide them direction and knowledge in creating campaigns on gender-related issues
Provide them direction on creating positive and right based solutions to the identified issues
Digital Mitra Phase – 1
During the three-month-long project, the girls were trained on how to edit photos and videos, develop script for videos, write blogs for social media channels, and use online spaces keeping in mind the safety and community standards to share their experiences and stories and build a community of girl changemakers who would further the cause of gender equality. The training sessions included workshops and panel discussions on campaign development, creation of engaging content to amplify gender equality, economic empowerment, climate change and gender, digital divide, cyber laws and so on by experts in the domain.
All the girls that took part in the sessions conceded that the Digital Mitra project has been very helpful in building their confidence to use phones for digital storytelling and have learnt how to take better photos and videos through the trainings. Only 30% of the girls in pre-needs assessment felt confident posting content on social media, but after the sessions around 95% stated they felt confident to do the same. Moreover, young girls shared that taking ownership of their stories and using the platforms to further empowerment of their communities will assist in shaping a positive outlook towards the role and importance of girls amongst other sections of the society including men and boys.
The post-assessment findings indicated the success and the scaling of the Digital Mitra pilot project. Building on the post assessment findings, the second phase of Digital Mitra has been initiated that will engage with 200 young girls as Digital Mitra covering 6 states including Delhi, Rajasthan, Telangana, Uttarakhand, Tamil Nadu and Karnataka.
TRAINING SESSIONS OF THE DIGITAL MITRA GIRLS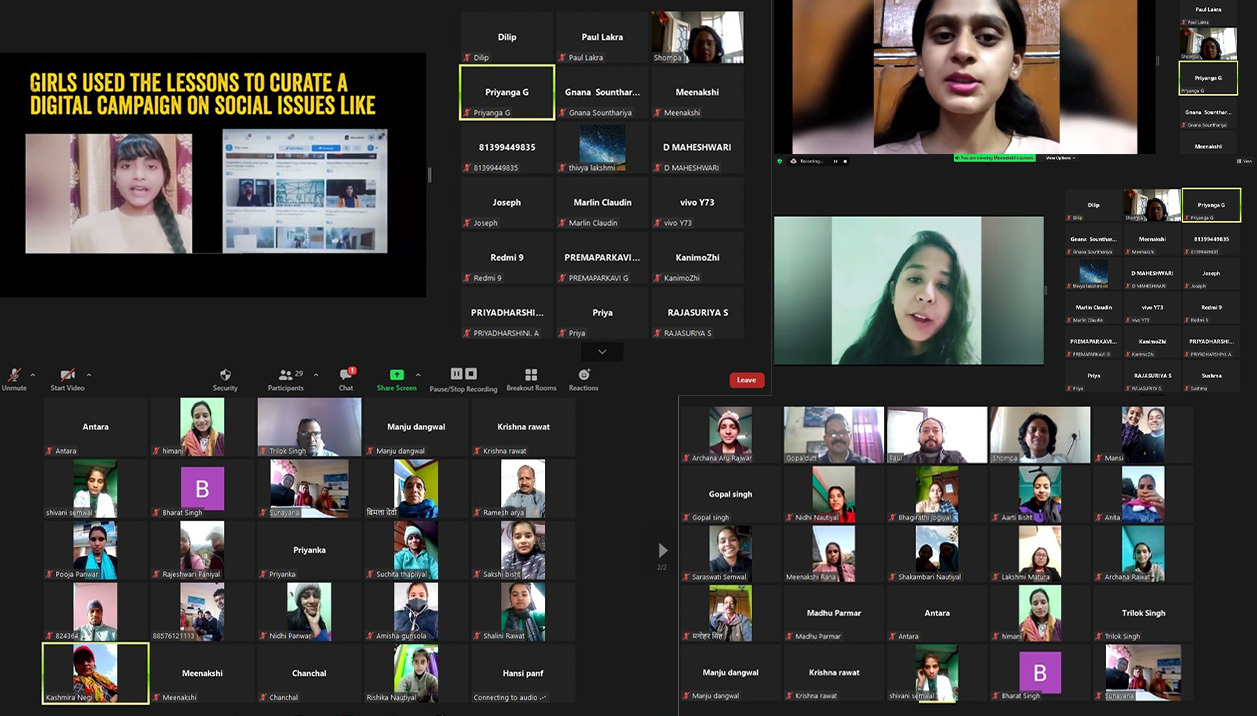 Training sessions of the Digital Mitra Girls
Digital Mitra Phase – 2
In the second phase of the programme, 200 girl changemakers from Plan India communities learned how to use smartphones for digital storytelling on issues that affect them and their communities. Additionally, the girls were given in-depth information on social media safety and proper use so that later they can participate in creating content and campaigns that promote gender equality.
In Phase II, one of the objectives was also to create simple learning modules covering the basics of photography, video, blog writing, and social media, which can be used by anyone who is interested in raising awareness about gender issues through smartphones and social media activities.
Developed in print and animated forms, the Learning Modules provide practical knowledge and tools on digital storytelling to empower young people. Our goal with the Learning Module is to help shape the youth to become better storytellers by providing them with key concepts, tips, and activities relevant to taking photos and video, creating digital content, writing for social media, and inclusive reporting.
Digital Mitra self-learning modules
The self-help modules are created to empower girls to download and learn the easy methods of storytelling to become change agents to say their own stories.
The self-learning modules are user-friendly and are illustrated in a pictorial format so anyone can follow along and learn how to use mobile devices to tell stories. By using a Digital Storytelling approach, these modules will provide young girls with an opportunity to identify and spotlight crucial gender-related issues like child marriage, child labour, menstrual hygiene and girl child education.
WHAT DOES YOUR FUTURE WITH DIGITAL MITRA HOLD?
Download the Animated and print format to learn the tips of digital storytelling
focuses on the basics of Mobile Photography, Videography & Blog Writing.
covers the basics of Facebook, Twitter, Instagram and Youtube.
What more do our modules offer?
Download the PDF to learn more.
Explore Other Projects