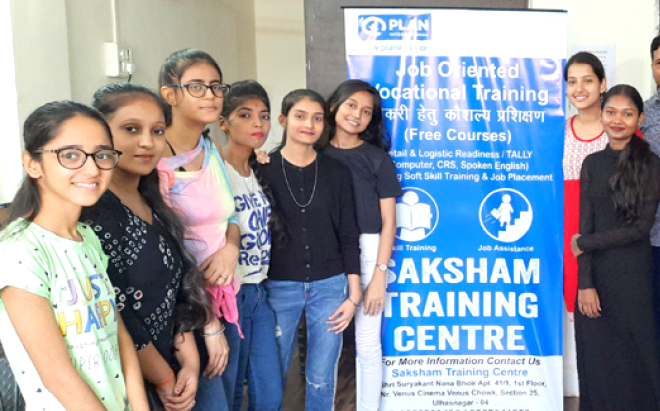 BUILDING LIVES AND A BETTER TOMORROW FOR YOUTH FROM VULNERABLE COMMUNITIES
Saksham project focuses on empowering youth in underserved areas with skill training and job placements to transition to a life of dignity.
Shikha is from one of the towns in Rajasthan, where working women are still seen as a taboo, Pooja is a product of the urban deprivation that is Mumbai. Today, both of them are breadwinners of their families after overcoming vastly different struggles to stand on their own feet.
Plan India's Saksham program enabled both of them to escape a life of generational poverty and discrimination by giving them skills and training to join formal workforce.
YOUR contribution of just INR 15,000 can help a girl like Pooja to work in the formal sector, thereby leading a life of dignity and purpose.
In the last financial year, over 6,000 youth were trained and over 4,000 youth were job placed with gainful employment. But there are millions of youths like Pooja awaiting a better tomorrow. Together let us give them an opportunity!
DONATE NOW
THE SAKSHAM STORY
Shikha and Pooja are among the thousands of young women empowered by the SAKSHAM Program. The term 'Saksham' (सक्षम) in Hindi means competent, capable, skillful, empower or enable. It encapsulates the ambitions of the project to support economically disadvantaged young people to receive soft skills and technical skills training to make successful transitions to the world of formal employment.
The project focuses on young women and men aged 18 to 29 in underserved urban areas, and young women and men aged 18 to 35 in remote rural areas. The approach is dual, as they are supported with placements to transition to life of dignity.
PLAN India launched the initiative in 2010 and has successfully empowered and provided employment for thousands of young people from the most vulnerable communities and served as a stepping stone for their social and economic freedom.
Salient Features
Holistic vocational skilling program for making students job-ready
Deep focus on mainstreaming students by providing placements post training
Lockdown-proof school with hybrid learning model
Tailor-made curriculum especially designed underprivileged young women
Life skills like communication, etiquette training provided to students for preparing them for formal sector jobs.
SAKSHAM model is our tried-and-tested approach combining skills development and employment services for young people, and your contribution goes a long way in providing fuel to this initiative.